If you want to go for adventurous outdoor activities just like fishing with your loved ones but cannot go for proper timing or money then fishing games are all you have for the ultimate fun. Fishing in real life can never get into competition with any games but when you are a bored angler and start missing fishing, Fishing Planet tips can take you to a tour to your favorite fishing spots with remarkable challenges and startling voyage.
Just to let you know, these tips have nothing to do with real fishing because these are tips only for making this game easier yet fascinating.
Basic Fishing Planet Tips
Always and we repeat, always try to keep the bait wet if you are craving for more fish. Wet baits can catch more fish than dry baits.
Some other Fishing Planet Tricks
Fish is no Friend of yours
Yes! Always remember that fish is not your friend rather consider fish to be your worthy opponent. Unlike the mechanical hurdles of the pixels, these fish will exactly behave like the authentic fish that you catch in real life. The fish in this game have instincts, senses and also a number of tricky activities "up the sleeve." So, before casting ay lure or bait anywhere in the water, think twice. The focal point is you have to outsmart the tricks of fish and catch them!
Read the Water
Based on the underwater structure and the terrain, fish are seen hiding them more often. Any bunch of the underwater foliage, logs, rocks, lily pads or weed beds, transition spots from sandy to muddy bottoms, breaks in water permanence etc can be your fishing spot. Go for exploring these places and we can assure that you will find your victim.
Weather affecting Fish
To maximize the chances of your success, get to know the weather because the weather has an effect on the fishing condition. Fish are just like the human and they do react according to the weather changes. The fish here are also very responsive to the passing of the water waves, fronts and changes of pressure.
The cold front weather has lower pressure so it can take you to favorable fishing state. As the fish are so much sensitive to the changes of pressure, when the cold fronts bear down on, days before that the fish will usually boost up their activities. After the front will pass (and some additional days after that,) the state will get worse and it will be tough for you to catch fish. The fish in this game are not apt to coming up and feeding when the pressure is high.
Then warm fronts are going on, you can have an ideal fishing condition because there will be low pressure and weak winds which will definitely attract these fish to stay closer to the surface and revive them so that they can swim a little longer distance. In the light rains, casting light seems less noticeable and insect also fly in the upper position that attracts the fish.
Pick up the accurate Tackles
The right combination of the fishing reel, line, and rod can make the beginners tensed. For your convenience, we have made a perfect way to solve it. Pay attention to these 3 characteristics
Match the perfect items and that will lead you to the logical outcome.
About The Fishing Planet Game
This Game actually a very unique first-person multiplayer online fishing game. It brings the full thrill of actual angling. You can choose fishing lures, discover new possibilities and sharpen your angling skill anytime with your friends. The game is available online and free to use.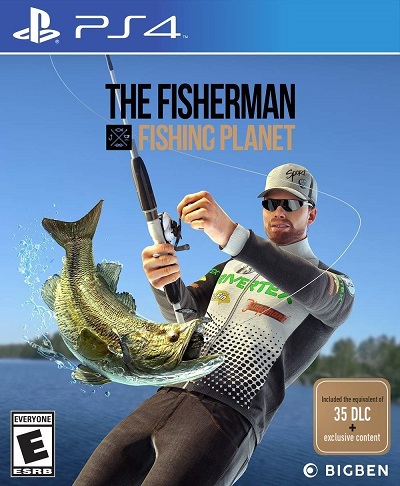 Fishing Planet (PS4)-Playstation 4
Required FAQs on Fishing Planet
Is Fishing Planet a multiplayer game?
Yes, Fishing Planet is a multiplayer game and you can enjoy it with your friend.
How to change your name or delete the Fishing Planet account?
You cannot delete the account but to change the name you will be required 160 bait cons. You have to go through Settings > Profile > Change User Name.
Where is the home storage of Fishing Planet?
Home storage refers to a storage that is at home. When you're at home you can see 2 icons exactly at the top. The icon that looks like a house is the home storage.
Conclusion
Fishing Planet is free for everyone. All you have to do is having a good internet connection and one downloaded client. This game depends on the free-to-win principle that means you will get the achievements depending on your own skills.
Related Resources-