Kayaking is a great way to get out and enjoy the outdoors, but for some people, the seat on their kayak can cause back pain. If you are experiencing back pain while kayaking, there are a few things you can do to upgrade your seat and relieve the pain. One option is to add padding to your current seat. You can also try a different style of seat, or add a cushion to your kayak's cockpit.
If you are like most kayakers, you probably experience some lower back pain after a few hours on the water. This is because the standard kayak seat does not offer enough support for your back. Fortunately, there are several ways to upgrade your seat to reduce or eliminate this pain. In this article, we will discuss three of the most popular options.
Reasons For Upgrading Kayak Seat
It's no secret that a kayak seat makes a big difference in how comfortable you are while paddling. If you're like most people, you'll want to upgrade your seat as soon as possible.
Kayaks are a popular way to enjoy being on the water, but the standard seat can be uncomfortable for long periods of time. Here are five reasons you might want to upgrade your kayak seat:
A kayak seat upgrade can improve your comfort level.
A good seat will provide more comfort and support than a basic seat.
A kayak seat upgrade can improve your balance.
A kayak seat upgrade can help you stay in your kayak longer.
A better seat will make you more comfortable, which will allow you to paddle for longer periods of time.
Types of Kayak Seats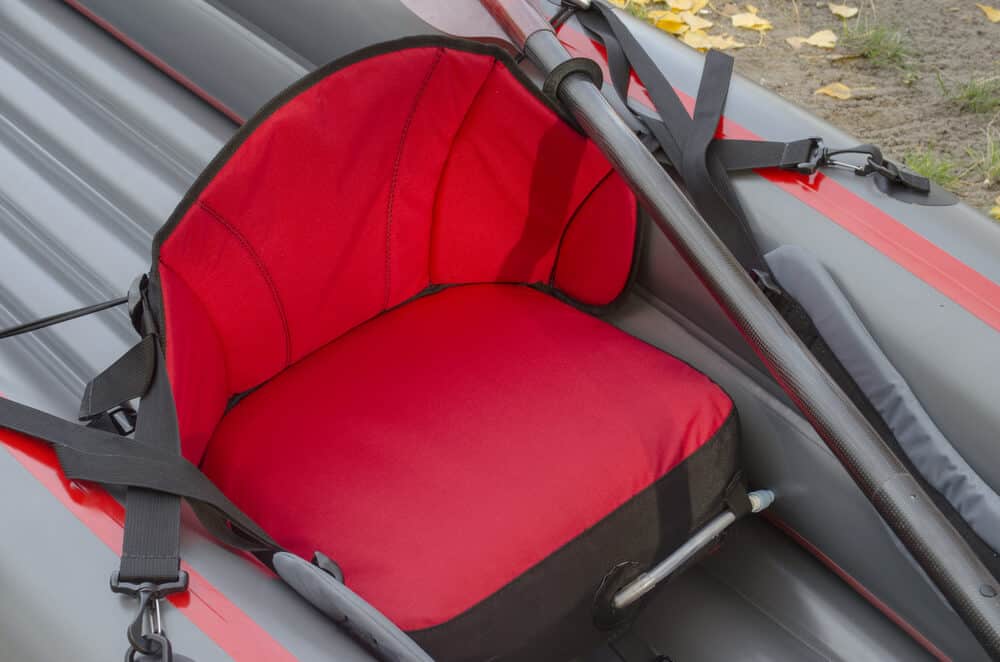 Padded seats
Padded kayak seats provide more comfort and support than seats without padding. They also help to protect your body from cold temperatures and wet surfaces. Most kayaks have pre-installed seats, but if yours doesn't, you can buy a padded seat that will fit your kayak. When shopping for a padded seat, make sure to get one that is made specifically for kayaks.
The kayak seat is a must-have for any avid kayaker. A comfortable seat will help you stay in the kayak for longer periods of time, making your paddling experience more enjoyable. There are a few different types of padded kayak seats on the market, so it is important to do your research before purchasing one.
One of the most popular types of padded kayak seats is the inflatable variety.
Inflatable seats
An inflatable kayak seat can be a great addition to your kayak if you are looking for a more comfortable ride. They are often made of durable materials, such as neoprene, that will hold up against the elements. Additionally, they can provide additional support and cushioning that can make your kayaking experience more enjoyable.
Check out an inflatable kayak seat! Inflatable kayak seats are a great option for those looking for a comfortable, affordable seat. Inflatable kayak seats are available in a variety of sizes and styles, so you're sure to find one that's perfect for you.
Raised seats
A kayak seat is often just a molded piece of plastic or foam that you sit on top of. While this is comfortable for some, others find it to be quite uncomfortable after a while. This is because the kayak seat does not provide any support for your back. A raised kayak seat can help to alleviate this issue by raising you up off of the hard surface of the kayak and providing some much needed support for your back.
Do you love spending time on the water, but find that your kayak seat isn't quite comfortable enough? If you're looking for a way to raise your seat and make it more comfortable, a raised kayak seat may be the perfect solution for you. A raised kayak seat can provide you with extra height and comfort, making your time on the water even more enjoyable.
How To Install A Kayak Seat
Installing a kayak seat is a relatively simple process that can be completed in a few minutes with the right tools. The first step is to remove the old seat by unscrewing the bolts that hold it in place. Once the old seat is removed, the new seat can be installed by following the same steps in reverse. Be sure to use washers when installing the bolts to ensure that they are tight and won't loosen over time.
Next, measure the width of the kayak where you would like to install the new seat.
Removal Of The Old Seat
The seat is one of the most important pieces of equipment on a kayak. It provides the paddler with a place to sit and paddle. The seat also provides a backrest for the paddler. A kayak seat can be made from a variety of materials, including plastic, foam, and wood. In recent years, the old kayak seat has been replaced by a new, more comfortable seat.
Installation of The New Seat
A new kayak seat is being installed at the local kayak rental shop.
The old seat was worn out and uncomfortable, so the shop decided to upgrade to a new model.
The new seat is made of high-quality materials and is designed for maximum comfort.
It has been heavily tested and proven to be very durable.
It is the part that you sit on while you are paddling. A good kayak seat will make your paddling experience much more comfortable. A bad kayak seat will make it very uncomfortable.
I decided to install a new kayak seat. I went to my local sporting goods store and bought a new seat. The new seat was much more comfortable than the old one.
This video will help you to learn more about kayak seat up gradation process..
Final Note
Upgrading your kayak seat can help relieve back pain. By following the steps in this article, you can find a seat that is comfortable and will help improve your kayaking experience.
If you are experiencing back pain while kayaking, consider upgrading your seat. A new seat may not completely cure your back pain, but it can definitely help make the experience more comfortable. You can find a variety of kayak seats on the market, so take your time and find the best one for you.