Widespread across North America, Bluegills are the fish of freshwater. Bluegills are the fish that can eat almost every anything. But for the best bet, you can create some particular bait that can widen your fish catching outcome.
We, at any rate, prefer live baits rather than selecting any artificial bait for bluegills. If you want a good fishing then go for any live bait like leeches, worms, crickets, and grubs.
Here, we are going to learn the basic details of bluegill bait.
How to create Bait For Bluegill
If you are not getting any live bait then you can make artificial bait at home easily in 3 different ways. Follow the subsequent rules.
To make an effectual bait for bluegill, all you have to do is using the exact ingredients and the opposite methods.
Ways of making Bait For Bluegill
Dough Ball Bait in Microwave
Pour ½ cup flour and add ¾ cup of warm water in a mixing bowl and mix it properly till it becomes a lumpy dough.
Take a wax paper and flatten this dough in it. Lay another wax paper over the dough and press it to make a 1.27 cm thick sheet.
Microwave it for 30 seconds and take it out. Roll this into balls of ¼ Inch balls. These are ready to use. If you want to use this in the future then you can wrap it inside a plastic and keep it in the refrigerator.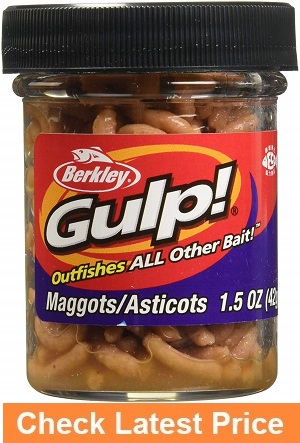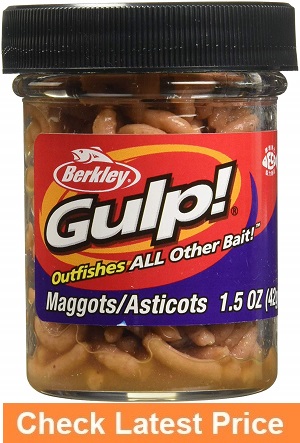 Bluegill Baits in Refrigerator
Mix 1.5 cups of flour with ¾ cups of Mountain Dew soda and whisk it properly.
Put in 1 tablespoon powdered Jell-O and cover it with a plastic wrap. Keep it in the refrigerator for around 4/5 hours.
Now roll the dough into 1.4 inch balls. Make sure you use these baits in between three days.
Some other bluegill baits
Use small fish and insects to catch bluegills
Use wet flies for catching the attention of bluegills
Pantry items like bread, hot dog or sweet corn can be used.
Berkley PowerBait Fresh Water Fishing Bait
Things to remember
Try to use light tackle
Use the lightest line
Go for tiny hooks
Settle in the late evenings and early mornings when it is a warm summer day
During the hottest daytime of summer, select to fish in deep water
Fly fishing is the best bet
Dry flies will be better than anything
Dough balls can be the best bait
Bring the bobber into the play
How to use
When you are ready will your bluegill, try to use just enough of the baits so that it can cover the hook. While making the bait, always bear in mind that there is a difference between the mouth of a fish and a human. Yes! When making the baits, do remember to make the baits small enough for the tiny mouth of a fish.
If you are up for any live bait for bluegill then remember that any sluggish cricket will not get so much attention from any bluegill. Treat the live baits properly and keep these fresh and cool. While using minnows, store them accurately. Go for long shank rather deciding on any short shank.
Statistical Information
Surveys say, bluegills are mostly attracted to vibrant stuff and they bite vivacious baits like orange, red, green, and yellow and mostly in the dusk and dawn. Live baits are the best when you are targeting o bluegills
Additional Information
What are the best baits for bluegills?
Nightcrawlers, wax worms, red worms/leaf worms, white bread, sweet corn/canned corn, hot dogs, and crickets are the best bluegill bait from the very beginning.
What is the standard size of a bluegill? 
Habitually the bluegills range in between 4 Inch to 12 Inch. The maximum size of a bluegill is 16 Inch.
How are bluegills as bait?
So, we don't only make bait for bluegill but bluegills also become bait! Yes, as the circle goes on, someone is someone's food. Fishing large fish and using bluegill as bait may seem really interesting as it can afford you good bets.
But hold on, using bluegill as bait while fishing is illegal. So, do not try to fish with bluegill as bait as it may cost you at a higher rate. Always try to follow global and local fishing rules.
Final Verdict
Using bluegill as bait while fishing is illegal. So, do not try to fish with bluegill as bait as it may cost you at a higher rate. Always try to follow global and local fishing rules.
Related Resources:
Telescopic Fishing Rod Under 100