Who doesn't love an amazing tour with his family or friends and go for a paddle board ride? Yes, this might seem charming but paddle boarding is not easy! In most cases, people do not learn it properly and after going into the water, they cannot control the board.
So before anything, learn swimming and take all the necessary equipment for saving your life if you go through any danger. And after that, all you got to do is follow the step by step process of how to paddle board and get into the water.
Water is fun and more fun is taking control of the water with your paddle board! So, let's get in the water and enjoy!
Step By Step Guide For Paddling Board
Step 1: Stable and Calm Water
If you are going for paddling board, always try to find the calm wind. This might not seem necessary but this can make the starting of your paddling easy.
You are not going for a competition rather you are here to have fun. So, getting calm water will make your board stable and easy to paddle. We recommend this specially for the beginners.
Step 2: Prone Paddling is the Key
If you are experienced, you already know the importance of prone paddling. This will help you take to the shore and deep into the water. For this, all you have to do is lie down on your board.
After that, keep the paddle of the board vertical along with board. Here, under your chest, you have to keep the blade.
This is to ensure that the blade is not floating away from you. Keep one arm on either side carefully. Now, all you need to do is start paddling. Yes, it will exactly feel like you are swimming!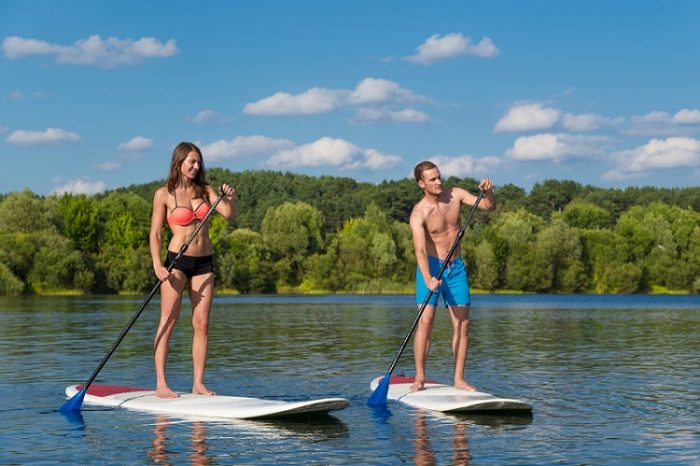 Step 3: Knee Paddling
Now, you have to sit up and then, take a position on your knees. You have to hold onto the paddles. As we have told you earlier, it is important to ensure that the paddles are not floating away.
All you have to be careful about is staying in the middle of your board. This certifies that the nose of the board along with the tail stay keep a balance and stay in the right position in the water.
Step 4: Holding Paddle Perfectly
If you can't hold the paddle properly, you are at fault, trust us! Check the T –bar grip that is settled at the top of your shaft. You have to place a hand on it. With the other hand, hold the middle of it. You have to keep this hand a little closer to the blade
If you need, you can swap your hands according to your comfort and to keep the board straight. Time to time; certify that the paddle is keeping its face to the right way.
Step 5: Paddle Height
Now, you have to adjust the paddle properly. To 8 inches overhead, settle the paddle. Try to keep the arms straight so that you are capable of getting wide range of motion. Core strength is required here more than your arm strength.
Step 6: Start Paddling
Now, using the down and back motion, all you have to do is paddle. You have to dip the paddle into the water at the face of your board. Now, you have to push it toward the rear again.
As you have to keep the line straight, you will need to switch sides. Keep doing it after doing a few paddles.
Step 7: Standing Up
Now, you have to stand up. For that, position the paddle horizontally to the front of the board first. Take your feet tot h middle of the board (exactly at the place you positioned your knees previously.) This might look like a squatting position.
Slowly and calmly, you have to stand up. Take the help of your paddle here. Try to keep the knees bent to keep the balance. Keep the feet parallel to each other. This is how you keep the balance.
Step 8: Paddle Directions
Now, you have to try paddling on one side of your board. If you use well-build kayak paddle then you do not need to switch the sides. You can switch sides if you think you need to turn to a direction. If you are turning to a new direction, switch the side and take the opposite side.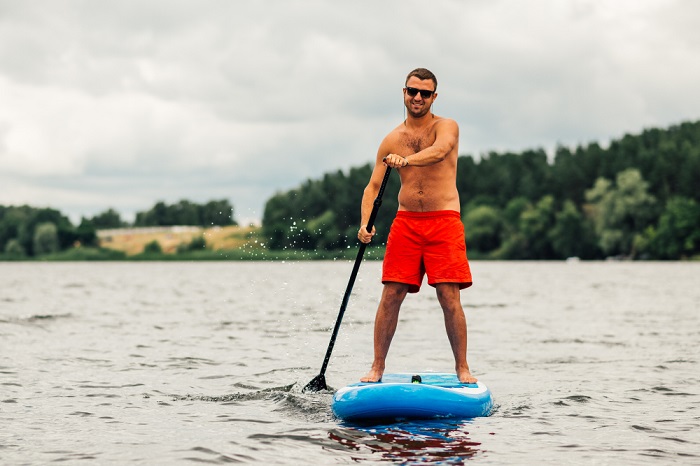 Step 9: Paddle Back
If you are planning to have smaller and quicker turns, you might put emphasis on back paddling. In these kinds of turns, you have to move your paddle to the front from the back.
All you need to do is dip your paddle into the water that is behind you. Now, you have to push it forward!
Step 10: Slow Down or Stop
If you want to slow down or stop, you have to back paddle quite a few times. If you keep doing this again and again, your board will slowly stop.
Or else, you can also step back on the tail of your board. This process is great for sinking the board under the water.
FAQs on Paddle Boarding
Can two people paddle board?
There are controversies regarding two people paddling board. But the paddle boards are usually made for fitting two people.
So, if you are comfortable with taking your partner for paddling board, you can do it. If you feel a little uncomfortable, you can rely on having two paddle boards. For paddling boards together in one board, you can g for a little large SUP.
Here, you will find quick guide!
How long does it take to inflate a paddle board?
The time of inflating a paddle board completely depends on the pump you are going to use for it. If you are settling for a regular hand pumps, you will be able to inflate it within 5-8 minutes.
The case is same with the K-pumps. However, if you are eying for the electric pumps, it will only take 30 seconds to 60 seconds for the work!
Which is easier paddle boarding or kayaking?
This completely depends on a person who is paddling or kayaking. However, if you are paddling with your paddle board and with kayak, you will surely feel that it is easier when you are dealing with a kayak.
In most cases, the stability of a kayak id better than the paddle board. Paddle board is tough to control and is not usually stable. However, kayaks are easier to operate and paddle.
Parcel Up
If you are here to get the right vacation, paddle boards are amazing. You can paddle with one board with your beloved. Or you can take your kids for an amazing paddle boarding session with 3-4 paddle boards.
The more you spend time over these outdoor fishing activities with your family and friends, the better connection are formed. Got through the methods and paddle boarding will be easy for you! And if you have any issues regarding paddle boarding, you can let us know by commenting. We will surely answer you!
Related Resources!